Image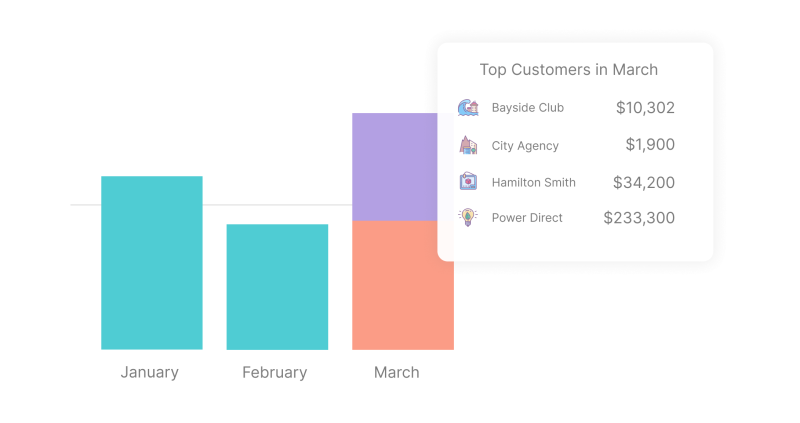 What is the Revenue Reports Addon?
Revenue Reports is an addon product to Invoice Stack that gives you instant reports into customer revenue and financials right inside HubSpot. It gives your Sales Teams or Account Managers amazing transparency on Invoices and Revenue, right where they need it, so they can spot revenue trends, troubleshoot invoicing and report on revenue. Find out more on the Revenue Reports page.
What can it do?
View all invoice for a Company or Contact
View all invoiced revenue across your business, broken down by Company
Accessible by your whole team (restricted access possible too)
Visible in a single click from Company or Contact record
Month by month invoice status, e.g. Draft, Authorised, Paid, Outstanding
View top performing customers
See linked deal, pipeline and owner for each invoice
Multi-currency support
Filter by accounting connection (if applicable)
Reports based on HubSpot deal associations (e.g. deal to contact and deal to company)
Download reports as a CSV
Where does it show in HubSpot?
Revenue Reports is shown as a HubSpot deal card on the Contact or Company record in HubSpot. Once installed, you'll see the deal card on the right hand side of the HubSpot screen.
Image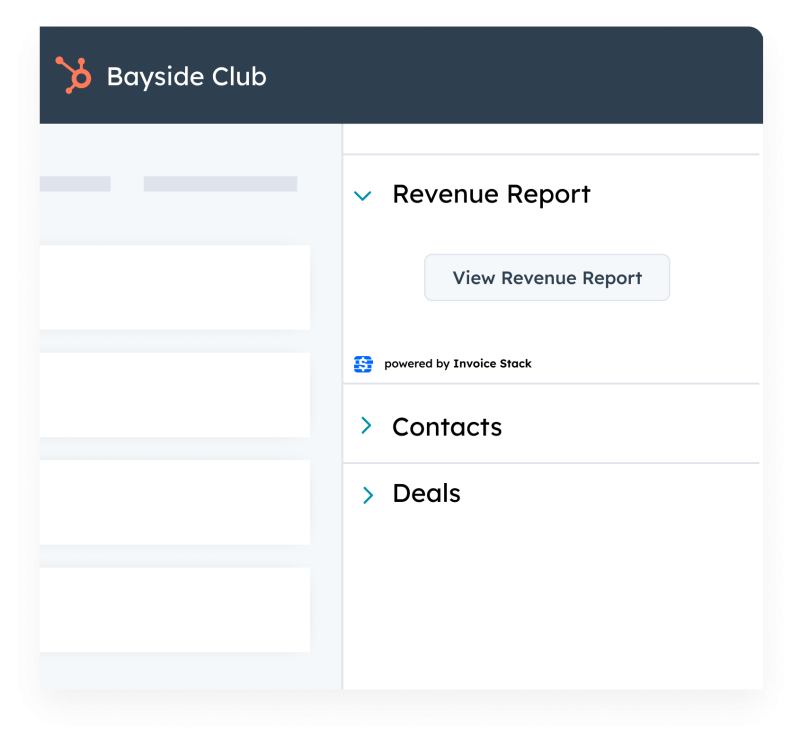 To view revenue for your whole business - just click in to the Revenue Reports from any Contact or Company, and click "All Revenue" in the navigation, as shown below:
Image

How do get started with Revenue Reports?
If you're currently in your 21-day Invoice Stack trial, you will currently have access to Revenue Reports as part of the trial, just follow the instructions above to find the Revenue Reports card on HubSpot.
If you're an existing Invoice Stack Pro subscriber - just log in to your dashboard and head to the "Revenue Reports" menu item - you'll be able to start a free, no obligation 7 day trial, or if this is finished, you can upgrade by clicking the button on that page.
If you're an existing Invoice Stack Enterprise subscriber - you currently have access, just follow the instructions above to access.
How is it priced? Can I try it before I buy?
Revenue Reports is $35 per month for Invoice Stack Pro subscribers and free for Invoice Stack Enterprise subscribers. This price covers your whole HubSpot account, for unlimited users. Revenue reports are not discounted for annual plans.
Invoice Stack Pro subscribers can upgrade or try a 7 day - no obligation trial, by opting in inside your dashboard.
How do permissions work, who can see the reports?
By default, Revenue Reports is visible to everyone in your HubSpot account. You can restrict this access within HubSpot by customising the visibility of the Invoice Stack card on contact or company records, and you can do this by team or by record.
Out of the box, all users with access to Revenue Reports can view the "All Revenue" screen, and therefore see revenue across your whole business, even if users only have access to certain records. This can be turned off by contacting the support team.
Where does the data come from?
When you load up Revenue Reports, the app will find any HubSpot deal that's associated with that contact or company, and display the invoices linked to those deals. That means that if your contacts or companies are linked up in different ways to Xero, the data will still display correctly.
We even show the data across multiple accounting connections, for example, if you have invoices from multiple Xero accounts.
Revenue Reports only uses data from Invoices that are generated via Invoice Stack. If you're new to Invoice Stack, you can import past invoices into Invoice Stack - just get in touch with the support team for more information.
We display all invoices generated from Repeating invoices in QuickBooks and Xero, but we don't show invoices that haven't been created yet - e.g. future invoices. This will be coming soon.
How is it different from HubSpot reports?
In Invoice Stack Pro + Enterprise you can use your HubSpot deal properties to create reports and dashboards inside HubSpot. However, because deals are one-dimensional, you cannot currently report on individual invoices, for example you cannot display revenue easily if it's split across multiple months.
Revenue Reports gives you access to pre-built reports that display this information.