HubSpot's data sync app is a great companion to Invoice Stack, allowing you to sync Contacts, Products and even limited invoice data between HubSpot and Xero. In this guide, we'll walk you what it can and can't do, what version of HubSpot you'll need and how it works with Invoice Stack.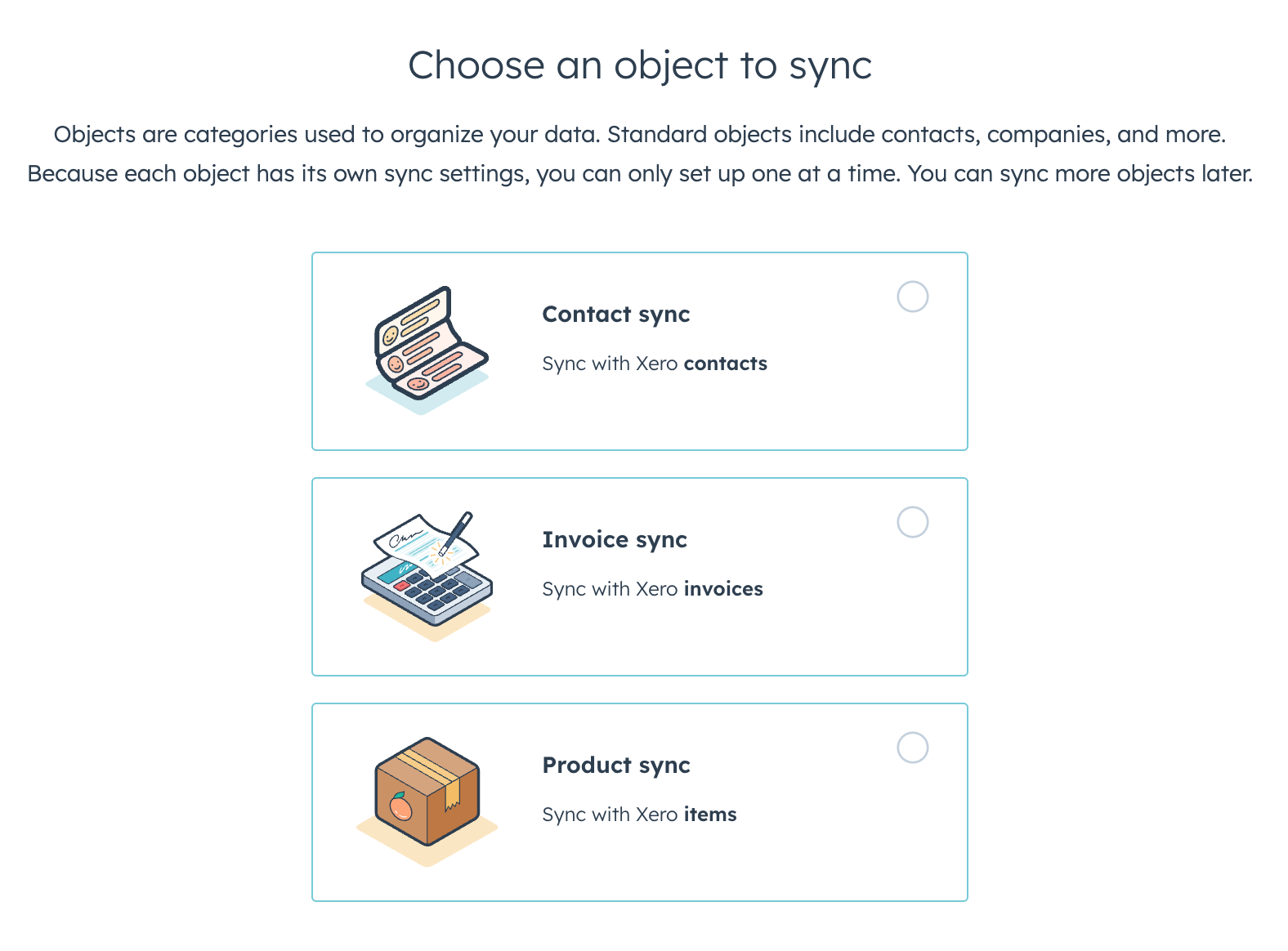 What is Data Sync?
In 2019, HubSpot acquired PieSync, a real time data synchronisation platform. They have since integrated it into HubSpot through a series of "Data Sync" apps in the HubSpot app marketplace. You can spot these apps in the marketplace because the author is "HubSpot" and the description always starts "Data Sync".
Every Data Sync app uses the same interface, with the following features:
Account Link - links up your app with one or more external apps (in our case, Xero)
Objects - choose which objects in HubSpot you'd like to sync, in this case, Contacts, Products and Invoices
Sync Direction - choose whether to sync between apps, one-way sync from HubSpot to Xero, or from Xero to HubSpot, and even which app to use if conflicts arise
Field mapping - map fields between Xero and HubSpot
Limits - choose to filter the objects you sync, you can use lists or properties to do this
Data Quality and Logging - Data Sync gives you the tools to debug why records aren't syncing, and an overview of what's been synced.
What are the limitations of Xero Data Sync?
HubSpot Data Sync is free, but to get additional functionality you'll need a subscription to HubSpot Operations Hub:
Custom Field Mappings - Ops Hub Starter
Sync historical data - Ops Hub Starter
Data Quality dashboard - Ops Hub Pro
For Xero, the biggest limitation is that Data Sync cannot sync invoices from HubSpot to Xero, only from Xero to HubSpot. In addition, the invoice objects that are imported back into HubSpot aren't associated with deals, and have limited data on them. This means they are useful if you'd like to report on future revenue for example, but not ideal for tracking the status of invoices on a deal.
Sync contacts between HubSpot and Xero
Invoice Stack allows you to create or edit Xero contacts when creating an invoice, but Data Sync can add to this by syncing contacts in bulk between the two systems. This works really well if you have a 1:1 relationship between your HubSpot contacts and your Xero contacts.
You can sync:
Name
Address
Email Address
If you're using Data Sync to create contacts, we recommend configuring Data Sync to run on the deal stage before Invoices get created, this is because there can be a time delay with data sync, whilst invoices can be created instantly.
If you're a B2B business, we recommend that you make sure that the sync sets the Xero Contact Name to the Company Name inside HubSpot, that way the contact will be selected automatically when Invoice Stack loads up.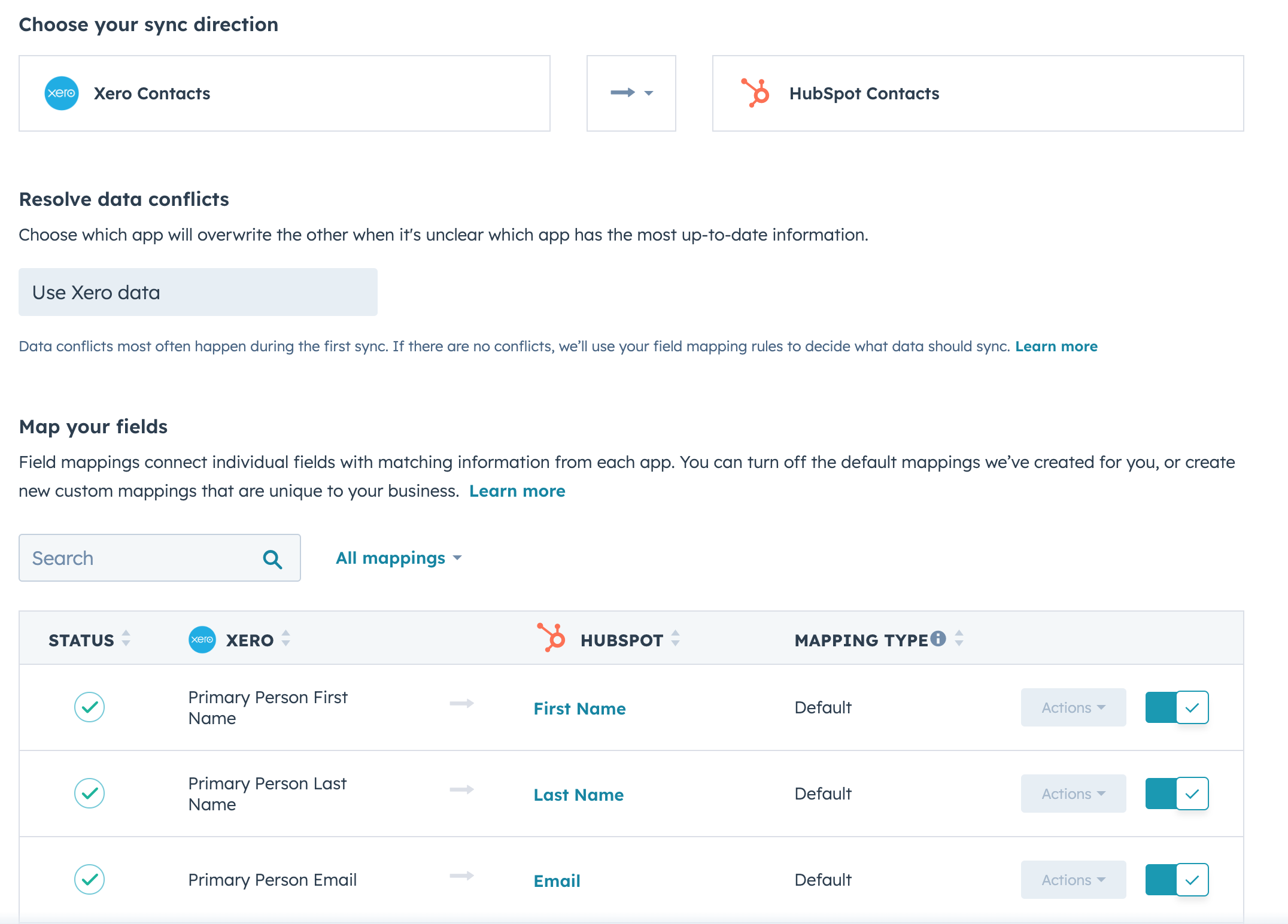 Sync products between HubSpot and Xero
Xero supports Products and Services, just like HubSpot does, and by using products in Xero you can not only unlock reporting functionality, but also save on data entry. This is because invoices in Xero require each line item to have an account and tax code set. Invoice Stack can pull this data from your Xero products when creating an invoice, saving on lots of additional data entry.
If you have a large number of products in Xero and HubSpot, then you can easily keep the two in sync using Data Sync. All you need to do to unlock the Invoice Stack functionality is make sure the HubSpot SKU is mapped to the Item Code inside Xero (don't worry this is part of the default mapping).
Other data you can sync includes:
Product Name
Sale Price
Cost Price
Product Description
Using Data Sync with Invoice Stack
Data Sync as you've seen so far is really powerful and does a great job at syncing key information between HubSpot and Xero. Whilst it can't sync invoices for you, it can make using Invoice Stack to create your invoices even easier - so we recommend you consider Data Sync as part of your Invoice Stack set up journey.
If you're looking to integrate Xero and HubSpot, book a demo with the Invoice Stack team to see how Data Sync and Invoice Stack can work together.
Find Xero Data Sync on the HubSpot App Marketplace